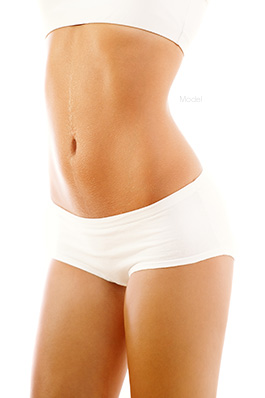 Everybody deserves to feel comfortable and confident in their bodies. Patients who have undergone dramatic weight loss often find that even though the number on the scale may be where they've always envisioned it, their bodies are not. Folds and sheaths of excess, sagging skin can obscure the new body you've struggled to sculpt. Body contouring following dramatic weight loss combines body sculpting procedures to enhance your appearance for a leaner, more toned you!
Am I a Candidate for Body Contouring?
Men and women considering body contouring after massive weight loss feel burdened by the reminder of their excess skin. You may have become within 13.6 kg of your ideal weight, preferably with a BMI below 30, and have maintained your weight loss for over six months to a year, and you are finally ready to reveal the amazing new you. Patients considering body contouring may identify with one or more of these issues following their weight loss:
Excess abdominal skin
Loose abdominal muscles
Sagging skin along the hips, thigh, and/or back
Hanging inner thigh skin
Drooping buttocks
Ptosis of the breasts
Hanging arm skin
Post-Weight Loss Procedures
Dr. Ashoor tailors all of his body contouring procedures to meet the needs of the individual patient. During your consultation, it will be determined which set of contouring procedures will provide you with your ideal body. All body contouring is performed using a general anesthetic.
Tummy Tuck
Tummy tuck surgery, included in a belt lipectomy, targets abdominal laxity that is most common following significant weight loss. Folds of excess skin can begin just below the chest and may hang down over the pubic region. An extended tummy tuck may be utilized to address additional folds of fat that occur along the back. Choosing tummy tuck surgery can restore a firmer and leaner abdominal contour that reveals the new, fit you.
Buttock Lift
A buttock lift, also included in a belt lipectomy, addresses drooping buttocks. Weight loss patients can find that their behind lacks definition or tone following their weight loss. Removing loose skin and lifting the buttocks can restore a more attractive buttocks position that enhances your curves.
Thigh Lift (Lateral)
A lateral thigh lift, also included in a belt lipectomy, treats excess skin accumulation along the outer thighs that occurs following weight loss. A thigh lift in combination with an extended tummy tuck will also address undefined hips. The outer thigh lift helps restore a slimmer silhouette.
Inner Thigh lift
Inner thigh lift surgery removes excess skin and tissue from the inner thighs to eliminate painful chafing and produce more slender thighs. Dr. Ashoor usually performs this using the medial longitudinal incision that is made from the groin down to the knee, and liposuction is often used in combination to contour the thigh.
Breast Lift
Breast lift surgery helps women who experience breast sagging following their weight loss. A significant number of women will lose breast volume and elasticity as they lose weight. A breast lift will better position the breasts for a perkier appearance. If you are also dissatisfied with the volume of your breasts, you can combine a breast augmentation with your lift.
Arm Lift
Arm lift treats sagging, flabby arms that are common for both men and women following weight loss. Eliminating excess skin can reveal a new, toned appearance. Slimmer arms help people feel more confident in a wider range of clothing and reduces possible irritation caused by arm chafing.
Liposuction
Liposuction can be utilized in combination with any body contouring procedure. Weight loss patients may have stubborn areas of fat that prevent them from having the definition, curvature, or contours they desire. The liposuction procedure can eliminate these unsightly areas of fat, improving the overall quality of your body contouring results.
What Is Recovery Like After Body Contouring?
The extent of your recovery will vary depending on the type and number of procedures performed. You will experience bruising and swelling of your treatment areas following surgery. Patients will wear a compression garment to facilitate the healing process and to ensure the best results possible. On average, patients can return to work within two or three weeks of their treatment. You may be able to resume your regular exercise routine after four weeks but only with Dr. Ashoor's permission. Your final results should become visible within four to six months.
How Long Do Body Contouring Results Last?
Body contouring provides our patients with dramatic, long-lasting results. Our patients feel lighter without the extra skin hanging on their body. They look and feel leaner. Gaining this new and slimmer body provides patients with the confidence to maintain their healthy lifestyle. Clothing will fit better, and you may feel more comfortable flaunting the body you've worked so hard to achieve.
Does Body Contouring Leave Scars?
While incisions are placed in natural creases as much as possible, scarring in extensive procedures like body contouring after massive weight loss are unpredictable. Most patients will have reasonable scars, but some might have more visible scarring. The severity of scarring depends on your healing process and your genetic makeup. Some patients might need additional procedures in the future to tidy up their scars or improve their contouring results.
Want to Learn More About Body Contouring After Weight Loss?
If you have undergone dramatic weight loss and want to rid yourself of excess skin, schedule your consultation with Dr. Ashoor today. Call us at +973 17740660 or contact us online.