Cervical cancer is the third most common cause of cancer affecting women in the world. Nearly all cases are caused by specific kinds of human papillomavirus (HPV). While HPV infections are quite common, they usually go away without treatment. However, persistent infections can cause abnormalities in the cells, which can lead to cervical cancer if not treated.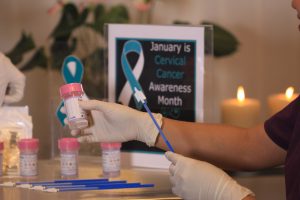 Why should you get screened for cervical cancer? Screening dramatically reduces the risk of getting the disease. In the US, active screening has lowered its onset – it is now the 14th leading cause of cancer among women. Precancerous lesions can be detected by pap smears, and cervical cancer can be treated before it reaches an advanced stage. Regular screenings are the most effective tool we have to combat cervical cancer.
What tests are available?
Two tests are used for cervical cancer screening: a pap test (or pap smear) and an HPV test. A pap smear can detect early cell changes so that they can treated before they become cancer. During the procedure, cells from the cervix are gently removed and examined for abnormalities. The test can cause mild discomfort, but no long-lasting pain. Regular screenings can lower cervical cancer rates by 80 percent, as they are very accurate.
The other option is to get an HPV test, typically at the same time as pap smear. Like that test, a sample of cells are collected from the cervix and examined. The test shows if a high-risk type of HPV is found. If found, then more frequent screenings are required to monitor early changes in the cells.
When should I be tested?
All women above the age of 21 should start screening for cervical cancer. Women between the ages of 21 to 29 should get a pap smear every 3 years, and an HPV test only if the pap smear detects abnormal cells. Women between the age of 30 to 65 should get tested every 5 years, and undergo both a pap smear and an HPV test. As for women above the age of 65, they do not need to be screened if their previous sessions all had normal results. Women who have taken an HPV vaccine should still follow the screening recommendations above. Proactive testing is the best method available for preventing cervical cancer.